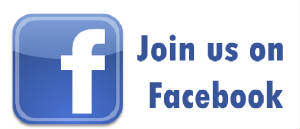 Go to Facebook and Like Joseph Harris Magic and see recent updates.
"Over 1500 Programs Presented in 10 States Since 1995"
See More About Joseph At Bottom Of Page.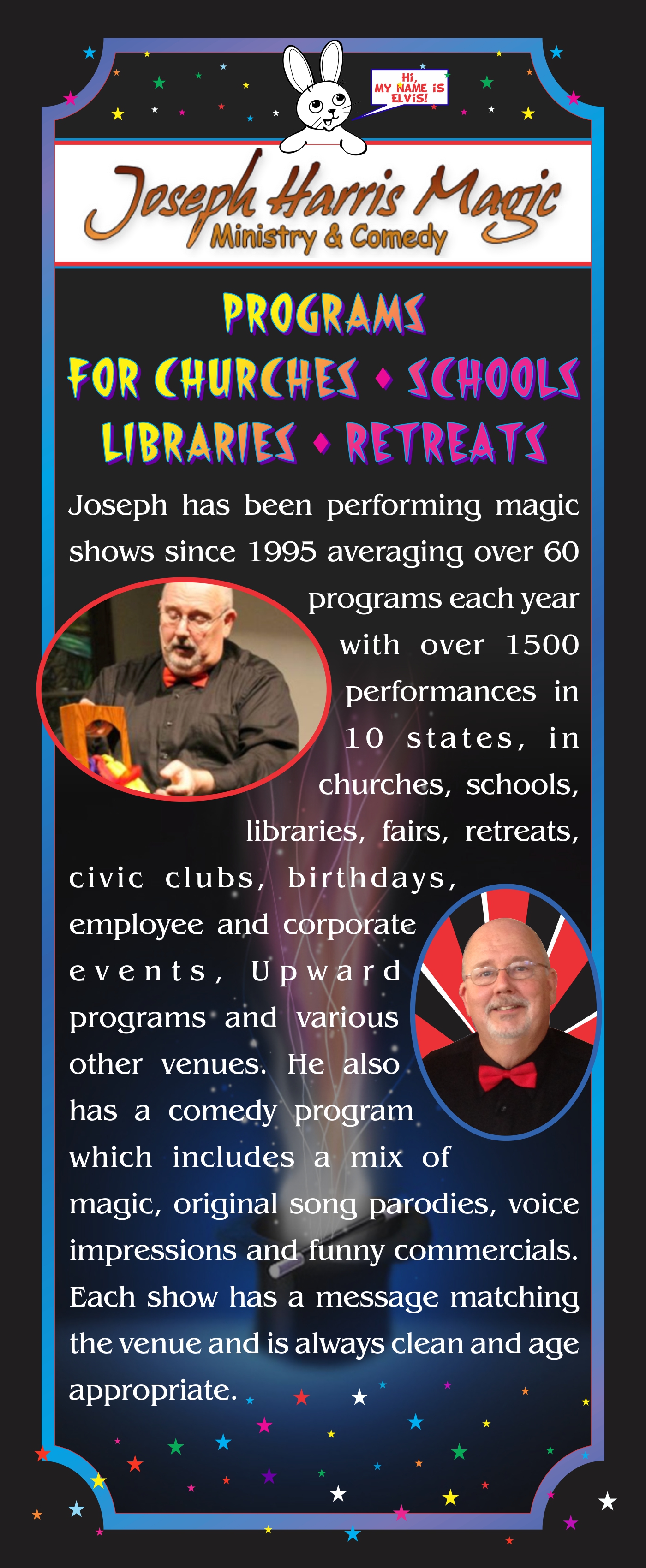 Welcome to my site. Take a look around and check out my programs. If you're looking for a professional magic show for church, banquets, restaurants, business, school, Upward award ceremonies, retreats, office recognition gatherings, children's church, civic clubs, VBS, etc. or strolling magic for festivals and fairs anywhere in the United States, you have arrived. If you need clean stand up comedy for any event, then Joseph has the program for you with guest appearances from his original characters Professor Cornpone and Brother Ritechus N. Dignation, presenting his unique style of original humor, song parodies, voice impressions and funny commercials.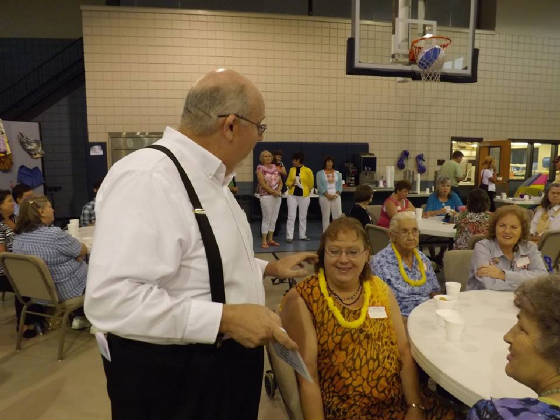 Please wait.
Check out two new tricks. What's in a Name is a trick that was primarily developed by a friend of mine, then I took it and reworked it. Pick a Politician was developed exclusively by me. What's in a Name is a unique Gospel magic trick where the spectator picks a name from 100 Bible names. You then "read" their mind and reveal the name chosen. Pick a Politician works the same but with the names of politicians. Other than one magic store in the United States, I am the only person from which you can obtain these original versions. Email me at
houdini59@att.net
Children's Church, Eastview Baptist, Brookhaven, MS
I have been performing magic shows since 1995, averaging over 60 programs each year, having performed over 1500 programs to date (2016) in ten different states. 85% of my programs are for ministry, but I do accept a few bookings for birthday parties, libraries, restaurants, schools, civic organizations, nursing homes, etc. The ministry program teaches Bible principles and Scripture throughout the program, emphasizing the difference between ministry/performance magic and occultic, New Age magic. I have presented my reading motivation magic show in over 40 libraries across the state of Mississippi. In schools, I present a tobacco education program which also includes warnings against alcohol and drugs, with an emphasis on the positive virtues of good character, honesty and integrity.
Comedy for small group setting (luncheon, dinner, designed for young, middle and senior adults, also used with civic groups): Length of time: 25 - 30 minutes.
Comedy program with song parodies, jokes and voice impressions (designed for young, middle and senior adults, popular for banquets): Length of time: 45 minutes.
Ministry Magic program (designed for a specific age group or church wide, can be adapted for banquets). Length of time: 60 minutes
Ministry Magic and Comedy combined (Church wide, designed for all ages): Length of time: 60 minutes
Strolling Magic for restaurants, festivals, banquets, corporate events, etc. Length of time: Up to four hours, 2 hour minimum for booking.
Family Fun Weekend for churches is a special program of three different sessions: (1)Humor with singing, (2)magic, and (3)a sermon with magical illustrations. Joseph will entertain the adults on a Friday evening banquet with characters such as Professor Cornpone and Brother Ritechus N. Dignation with humor and song parodies. On Saturday evening, Joseph presents an hour long magic show for the family with appropriate Bible teachings and evangelism. Sunday morning closes out the Family Fun Weekend with a powerful message with one of two special sermons: (1) A sermon for families, illustrated by more magical effects, challenging families to make a commitment to God in rededication. This emphasis is needed in a society where the family is attacked and belittled. or (2) An evangelistic sermon, also illustrated by magical effects, closing with an invitation for the lost to accept Christ. This package can be changed to two nights if needed, or in other ways, to fit the need of your church.
Travel expense is at .45 cents a mile round trip, or airfare expense and lodging if needed.
For cost of each program, email houdini59@att.net