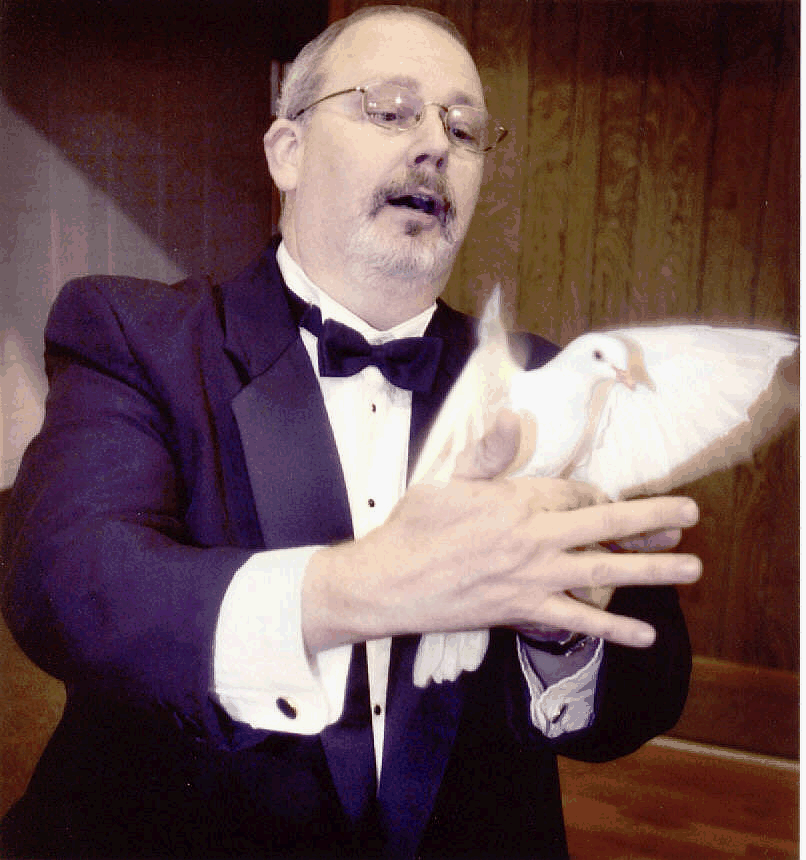 Comedy for small group setting (luncheon, dinner, designed for young, middle and senior adults, also used with civic groups): Length of time: 25 - 30 minutes.

Comedy program with song parodies, jokes and voice impressions (designed for young, middle and senior adults, popular for banquets): Length of time: 45 minutes.

Ministry Magic program (designed for a specific age group or church wide, can be adapted for banquets). Length of time: 60 minutes

Ministry Magic and Comedy combined (Church wide, designed for all ages): Length of time: 60 minutes

Seminars teaching in the areas of Bible and Christian Education. See below for the different seminars offered.

Travel expense is at .45 cents a mile round trip, or airfare expense and lodging if needed.

For cost of each program, email houdini59@att.net
Magic
Joseph offers 20 years of professional experience, having performed over 1400 times since 1995. He presents ministry magic programs for all ages in a church setting, VBS, retreats, banquets, crusades, youth meetings, senior adult gatherings (see Family Fun Weekend below). Each program is scripturally sound, and the humor is always clean and appropriate for each age level. Also included are interactive stories and original unique illustrations to help drive home each teaching point, making each program memorable.
Comedy

Joseph is available for stand up comedy for gatherings at church, retreats, banquets, senior adult meetings, civic clubs or just about anywhere good clean humor is needed for young, middle and senior adults. He uses (mostly) original humor with original song parodies, tells jokes and stories in his "down south" way and sings parodies about growing older, such as "Over the Hill" (Blueberry Hill), and the preacher on the move, "He's on the Road" (King of the Road) and many more. Mix in some voice impressions of Paul Harvey, Billy Graham and Tennessee Ernie Ford and an ole' fashioned sermon of conglomeration by his pastor, Brother Ritechus N. Dignation, and you will have a clean, fun filled event to remember. Funny commercials and even some real "teach'in" can be found in this program.
Family Fun Weekend

This is a special program of three different sessions: (1)Humor with singing, (2)magic, and (3)a sermon with magical illustrations. Joseph will entertain the adults on a Friday evening banquet with characters such as Professor Cornpone and Brother Ritechus N. Dignation with humor and song parodies. On Saturday evening, Joseph presents an hour long magic show for the family with appropriate Bible teachings and evangelism. Sunday morning closes out the Family Fun Weekend with a powerful message with one of two special sermons: (1) A sermon for families, illustrated by more magical effects, challenging families to make a commitment to God in rededication. This emphasis is needed in a society where the family is attacked and belittled. or (2) An evangelistic sermon, also illustrated by magical effects, closing with an invitation for the lost to accept Christ. This package can be changed to two nights if needed, or in other ways, to fit the need of your church.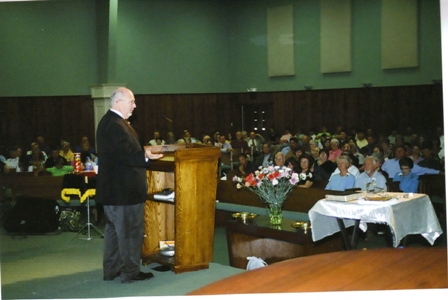 Teaching Ministry
Joseph Harris has been directly involved in Christian education since 1987 when he joined the Bible faculty of Southeastern Baptist College in Laurel, MS. He served as Executive Vice President and Interim President of Southeastern spending a total of 26 years in Christian higher education. In addition, Joseph has pastored for 29 years. He has written curriculum for the Baptist Publishing House in Texarkana, TX and has published seven books and several work texts.
Seminars Offered
Indestructible Israel: A Seminar on the Past, Present and Future of God's Earthly People- Delivered in four 1 hour sessions, this presentation begins with the call of Abram, giving a brief synopsis of historical Biblical Israel, covering present day Israel, ending with prophecies of Israel yet to be fulfilled. The last session is a walk through the book of Revelation featuring an original 12 foot by 4 foot chart designed and used by Joe Harris, Sr. 60 years ago.
Teacher Training- This two hour session is helpful for beginning teachers and seasoned teachers. Covers methods, do's and don'ts, learning levels and lesson preparation.
Manners and Customs of Bible Times- These lessons are taken from 20 years of classroom teaching, and cover the background of Jewish customs, helping to give a clearer understanding of over 300 Bible verses. Covers dress, occupations, education, the family, shepherding, dwellings, music, worship, etc.
The Passover (Demonstration with Teaching)- A thirty five minute demonstration that goes through the Jewish Seder or Passover ceremony, explaining the 4 cups, and showing how Jesus the Jewish Messiah is the substance and fulfillment of what the Passover teaches in shadow and type. Authentic Passover materials, food and implements used.
Baptist Distinctives- Three sessions on Baptist Distinctives, covering history and doctrine.
The Revelation of God- Covers the general and special revelation of God in creation, conscience, Christ and the canon of scripture, also emphasizing the greatness of God over His creation.